Marriage Equality Promo
My Graphic Design class is creating "Popular Culture Promotions". Basically, promotion packages about a topic going on in popular culture. I examined the issue of gay/equal marriage and Prop 8, and decided to make a wedding stationery package with information about marriage equality.
Moodboard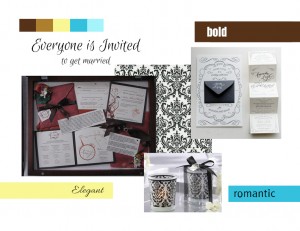 First thing we did is create moodboards. I thought about a color scheme and general design concept, as well as font options. I decided on gender neutral earthy browns and yellow, as well as a bright pop of blue. The default would have been a rainbow theme, but I wanted something with elegance. I was also concerned that someone who should receive the message about marriage equality might ignore something rainbow themed without examining it closer. I wanted to use a scripty font, and looked at Google Web Fonts to find a nice, legible script type that may be a little different than what people are used to seeing. (No Pristina or Brush Script!) So I went with Euphoria Script. And used Meta for the regular copy.
My original notes:
Gay/Equal Marriage
Wedding invitation/paraphernalia style
Script fonts (Euphoria Script)
Sans-serif fonts to break up the script fonts (Anton, Meta)—let scripts be for more highlighted words/points/titles.
Colors – avoid cliché rainbow. Gender-neutral, neutrals with a highlight color, Tiffany-blue for American jewelry/romance reference, black and white
Elegance without being feminine
Damask print – something elegant for pattern, style
Headline/main title: "Everyone is Invited". Tagline/subtitle "To get married."
Arts and crafts style.. kind of
Materials
After going back and forth with pondering buying a ready-made wedding stationery kit and adding my own design/text, I decided to go with buying cardstock and ribbon and making my own! This gave me the freedom to alter the usual wedding stationery to fit my needs of each piece being informative in some way.  When thinking about "presentation", I thought a nice woven basket to package it all together would be a charming choice.
I decided to make:
An invitation: giving an overview of how same-sex relationships are just as healthy and stable as opposite-sex relationships when it comes to marriage and raising children
A program: outlining some of the benefits given exclusively to legally married couples.
A save-the-date: a list of dates of the states so far that have legalized same-sex marriage.
A guestbook: half is quotes from various politicians or same-sex marriage proponents, the other half is "what are your thoughts on marriage quality?" for others to include their own.
Party favor: a small box of candy with a tag that simply says "Everyone is Invited".
A pin/button: a 1″ button with "Marriage Equality" (not pictured in final product)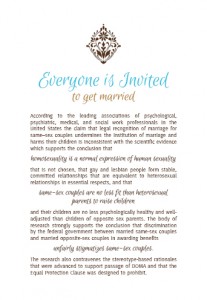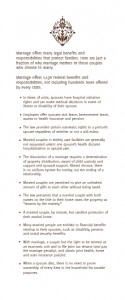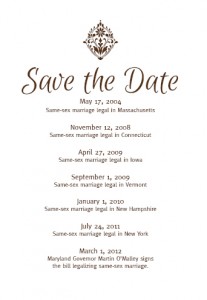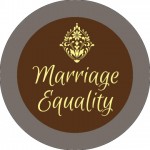 The Final Product