Booklet Design
The assignment: design and create a small advice or how-to booklet. I opted to make a small quick-and-easy cookbook with meal ideas.
Brainstorm
I thought about what I'd like to include in my booklet. Recipes, shopping lists, photos. I then worked out how many pages I would want based on what I'd like to include, and organized it by Breakfast, Lunch, Dinner, Dessert, and Snack sections. Here's a thumbnail sketch: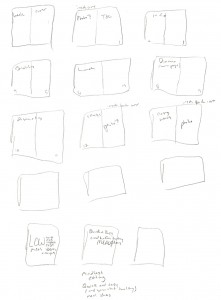 Moodboard
I decided on fonts and colors (red and yellow: hungry colors!). I thought about how I'd like to present the photos and thought a "Polaroid" style would be fun and fit the quick-and-easy feel  of the recipes. I put together a moodboard: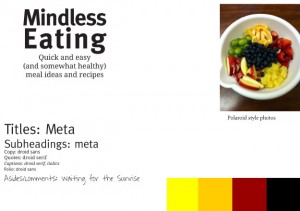 Final Project
Part of the assignment was thinking about how all the sections and information fit properly within the page-facing booklet format. I had to add and subtract parts to keep within the multiples of 4 pages to make a complete booklet.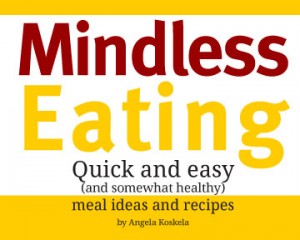 (PDF)