New York Comedy World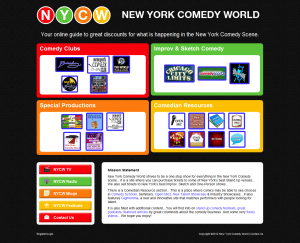 Client wanted something of a "hub" for multiple New York City comedy clubs. Website needed to consist of 4 main categories, as well as multiple sections that were to be added as needed.
I opted to have the website powered by WordPress, for ease of editing.  This way, we could utilize the Page and Category functions to add new sections. The blog grabs feeds from multiple different sources and updates automatically. I used a stripped-down theme in WordPress and hand-coded the HTML and CSS myself. Their original logo was not very neat and clean, so I cleaned that up in Illustrator.